Over the years we've had lots of golf groups stay with us, some many times (you know who you are!). Many of our golfers have their annual golf trips down to a science and we've been taking notes on what makes for a fun and successful trip. If you've never taken a golf trip to Gulf Shores, we have all the information and local knowledge to help make your experience a success!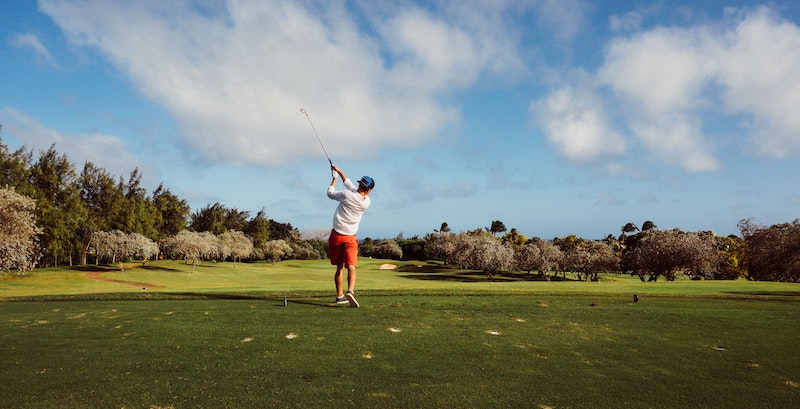 Pick the Right Gulf Shores House
Of course, having the perfect place to stay is at the top of our list. Choosing the right Gulf Shores vacation rental means choosing a house with lots of adult bedrooms (each with a king or queen bed), a private bath for every bedroom, and a big living & dining area where everyone can gather for meals, a game of poker, watching your favorite football teams, etc. We are able to accommodate golf groups in our large Gulf Shores rental homes that have anywhere from 8 bedrooms to 12 bedrooms. Make sure that everyone in your group can stay in one convenient location!
Plan Your Rounds
We are lucky to have a number of signature Gulf Shores golf courses within a 20-mile radius of our beach houses (several within 5 miles). Favorites include the Gulf Shores Golf Club, Peninsula Golf & Racquet Club (27 holes), Craft Farms Golf Resort (36 holes), and Kiva Dunes (the top public golf course in the state of Alabama). If you haven't already picked your courses, you'll find a comprehensive list with links to their websites at the Gulf Shores golf course guide.
Eating In--Good Food Made Easy
Nothing is better than having the house stocked with food when you arrive! There are several local services that will load in groceries for you, but our favorite is Orange Beach Concierge. Why are they are favorite? There are several reasons. The first, food is not the only thing they will stock for you, they'll stock the bar as well if you wish. The second, they'll also leave a great restaurant-quality meal ready for you to enjoy. While they offer many options, The Italian and The Mexican are favorites of ours. 
Eating Out—That can be easy, too
It isn't always easy for a group to go out in Gulf Shores, but we have some great local restaurants that are prepared for your group. Some of our favorites are Fisher's and Cobalt. Whether you are looking for a lively beachfront restaurant or a luxurious fine dining experience, we know all the best restaurants to visit in Gulf Shores. We would be happy to provide you with recommendations, give us a call at 877-747-4787.
Transportation while you are in town
Some of our golf groups drive while most fly in and rent cars. But that doesn't mean you won't drive while you are in the area—especially since that means multiple cars. Whether you are looking for a sitdown dinner or a night at the FloraBama, Gulf Shores has many cab companies that have vans or shuttle buses so you can all ride together, and no one has to drive. 
And More! 
Looking for a break from golf? There are some great things to do between rounds, too. Whether you are interested in a 4-6 hour fishing trip, a zip-lining adventure, a day at the Mullet Toss (always glad to have you guys back), a private yoga session on the beach or some other interest, we are happy to recommend local spots that fit your interests. That is one advantage of working with a locally run, family-owned business. 
We hope you'll consider a stay in Gulf Shores at one of our homes for your next golf trip. We've put together a list of homes we think are well suited for golf groups. These Gulf Shores Vacation rentals have adult beds in every room, a private bath for every bedroom (or nearly every bedroom), and big gathering spaces. They also have great amenities like swimming pools, elevators, and grills.