Gulf Shores is home to amazing fresh Gulf seafood, fabulous steaks and wonderful southern cuisine. There are many kinds of dining options available to families, friends, and couples here, and fine dining in Gulf Shores, AL, is one of the most plentiful. These are some of our favorites--you'll want a reservation!
Fine dining in Gulf Shores, AL, is just one of many draws of Coastal Alabama! People travel to Gulf Shores from all over the world to experience our sugar-sand beaches, vibrant entertainment scene, and array of family-friendly activities. One of the best resources for the most sought-after attractions and lodging specials in Gulf Shores is the Gulf Shores Vacation Rentals Newsletter. After you sign up, an extensive list of things to do in Gulf Shores will be sent to your email. It's never been easier to plan your next trip!
Our 2019 List of The Best of Fine Dining in Gulf Shores, AL
Fisher's at Orange Beach Marina
Fisher's at Orange Beach Marina is our go-to spot for great food and great atmosphere. Executive Chef Bill Briand has been a James Beard Award semi-finalist for three years running and serves up creative Southern coastal cuisine both Upstairs, in a beautiful fine-dining space, and Dockside, a relaxed, waterside, open-air space. Check out the special event series of Southern Grace Dinners, presented by Coastal Living and Fisher's, featuring some of the country's best chefs.
Personal Chef at Your Beach House
Your own chef, and your custom menu, in your home away from home. When your beach home has a beautifully stocked kitchen and great dining space, it is the ideal setting for a fabulous meal. Orange Beach Concierge brings fine dining to you. Tillie Pan will collaberate with you to set the stage for a memorable evening, while award-winning Le Cordon Bleu trained Chef David Pan and his staff prepare simply amazing food. Perfect for our guests who like to travel with their own wine (you know who you are), there is nothing easier than being able to stay home and be pampered with some of the best food you'll ever taste.
Sunset Cork Room
The Sunset Cork Room in Gulf Shores, AL, is not only a great restaurant in Gulf Shores, but also a popular wine bar featuring live music. If you and your crew are wine aficionados, there's no better place to spend an evening. This small and intimate dining establishment is a great choice for a couple seeking romantic ideas in Gulf Shores, AL, or a group of friends who want to unwind together. The Sunset Cork Room offers an escape from typical beach fare and offers a great selection of appetizers and small plates as well as great fresh fish and signature grill items like steak and lamb. The wine list is long and features favorites from all over the world!
Jesse's Restaurant
A hidden gem in a historic house, Jesse's Restaurant is one of the best overall restaurants in the area, and worth the short drive to Magnolia Springs, AL. Named after the house's original owner circa 1922, Jesse's Restaurant features unique cuts of dry- and wet-aged hand-cut steaks, bone-in cuts, and fresh fish brought in daily. A perfect date-night idea, this top-rated steakhouse also hosts large groups in private dining rooms and welcomes special occasions. The culinary experts of Jesse's build personalized menus to fit a party's budget -- a great option for special events.
Stay Near All of the Best Gulf Shores Restaurants
A stay in one of our Gulf Shores Vacation Rentals ensures a great time for you and yours. Whether it's you and your wedding party or you and your team of business associates, our beautiful homes can accommodate your needs. Each rental features picturesque views, spacious living areas, and all of the luxury you'd expect out of a beachfront mansion.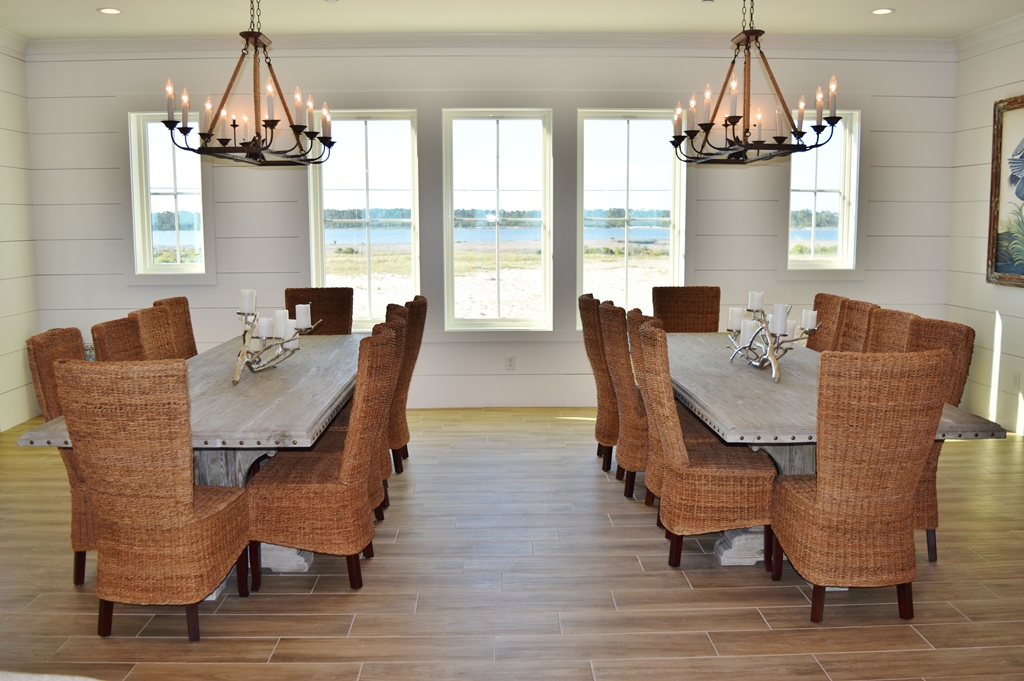 Morning Tide is an 8 bedroom beachfront home that sleeps up to 26 guests and features huge living and dining areas, an well-stocked and open kitchen for gathering, and large porches on three levels. It is a great place for cooking together, and eating together!
Fine dining, fun attractions, and a perfect beach house. What more could you ask for on your Gulf Shores vacation?
You May Also Be Interested In