Looking for a great place to take the kids during your family vacation to Gulf Shores? With the motto of "Play now. Grow up later," The Factory Gulf Shores is a fantastic place for kids to have a ton of fun! In fact, we take our boys there for a high-flying good time. The trampoline park includes a variety of activities and courses, from the foam pit to the main trampoline center. With bright colors and fun artwork, it is a favorite place for the kids to get out some energy and have a blast doing it! Here is what you need to know before taking the family to The Factory Gulf Shores.
For more information on fun family-friendly activities to enjoy during your stay with Gulf Shores Vacation Rentals, read our blog on 8 of the best things to do with kids!
Get Your Jump On!
Three generations combined to create the vision that is now The Factory Gulf Shores. This local leisure hotspot is perfect for a playful afternoon! Whether you're looking for a little exercise yourself or want the kids to get their jump on, it's a great place to go for a half hour or hour to get some energy out. Tickets are just $7 for 30 minutes, $13 for an hour, or $18 for 90 minutes. The Factory Gulf Shores hours are between 11am and 9pm Sunday through Friday and 11am to 10pm on Saturday. There is also a teen night from 10pm to midnight on Saturday, which is a great way for the older kids to have some late night fun during vacation.
Activities to Enjoy at The Factory Gulf Shores
The Factory Gulf Shores is a great way for the kids to get out their energy before a family dinner or trip to a local museum. They'll love the variety of activities to participate in, from the ninja obstacle course to X-treme dodgeball. The open jump is a good way to get started, with a room full of trampolines for bouncing and flipping. A more mellow activity for those who might be intimidated is the foam pit. Once you dive right in, you'll be ready to move to the other activities in no time! The adrenaline jump will really get your heart racing, while the mega slide is pure fun. The trapeze and flight simulator are also fantastic activities for those who are a little more daring! And it's not just for kids; parents might also love The Factory Gulf Shores.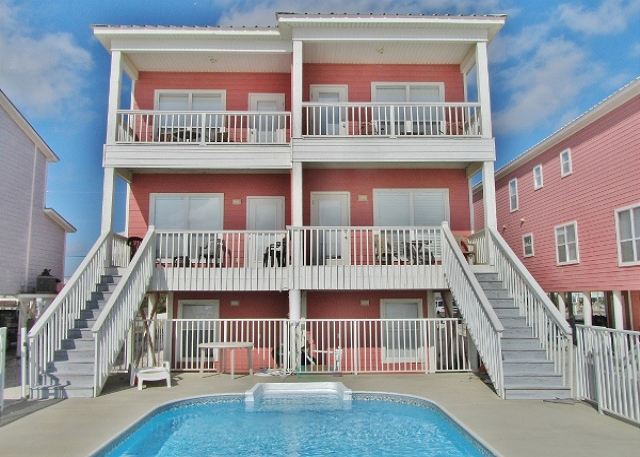 After the Kids Have a Blast, Return to Your Private Family Home
You'll love spending an evening with the kids after they've gotten their energy out at The Factory Gulf Shores. I bet they'll be ready for bed in no time! If you go in the morning, then relax afterwards with a day at the beach. Or, enjoy a family lunch out on the town with the whole gang. We have the perfect vacation home for everyone to enjoy! The vibrant 10-bedroom SunGlade is directly on the beach with a private gulf-front pool. Two of the bedrooms are bunk rooms, perfect for the kids to crash together. Gather for a family reunion and have a fantastic time during your trip to Gulf Shores. You'll be creating memories to last a lifetime!