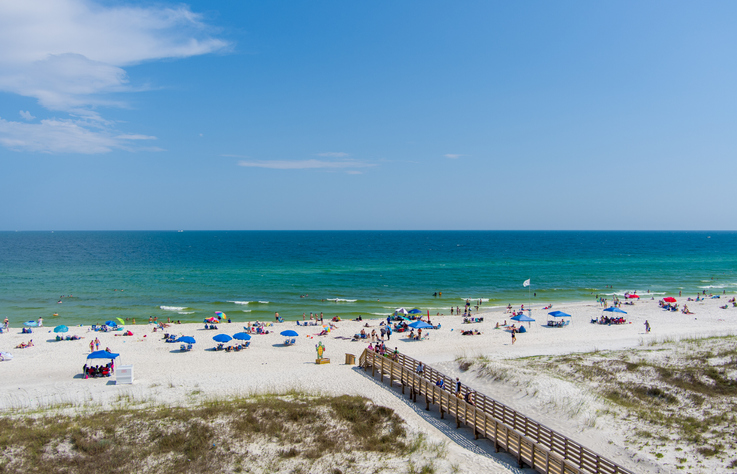 Leave No Trace refers to the principles of minimizing your impact on nature and visiting nature respectfully. But what does that look like? We have your guide on how to visit Gulf Shores (and wherever you explore nature) while doing your best to leave no trace! From being sure to pack out what you pack in, to not disturbing the dunes, there are plenty of ways to ensure you do your best so as to not disturb the natural environment!
Leave No Trace Principles to Consider When Visiting Gulf Shores, Alabama
Plan Ahead & Prepare
Plan ahead for your beach day to ensure your health and well-being and the environment you are visiting! For example, be sure to pack plenty of water to make sure you stay hydrated and avoid the need for any last-minute plastic water bottle purchases. Also, be sure to leave no trace by packing up any disposable items at the end of your beach day!
Leave What You Find
Another principle of Leave No Trace is to leave what you find on the beach! In other words, do your best as to not alter the natural environment in any way. This includes not removing sand or seashells and avoiding walking on any beach vegetation. Be extra careful to not walk on any federally protected dunes to protect the natural habitat and ecosystems the dunes provide!
Be Considerate of Others
Finally, being considerate of others is a key tenet to Leave No Trace! Be mindful of other beachgoers by following beach rules and being mindful of noise levels. Make sure that you are helping make the beach a relaxing destination for all!
Learn More About Leave No Trace Principles
Learn More About Leave Only Footprints
Gulf Shores, AL Beach Rules
Personal items must be removed from the beach one hour after sunset
No pets are allowed on the sand beaches
No glass or breakable containers
No digging holes deeper than 12 inches and holes must be filled when finished
No fires, fireworks, or cooking devices
All trash must be removed from the beach
No motorized vehicles, with the exception of motorized wheelchairs
No tobacco or e-cigarettes
Learn More About Kiva Dunes & Gulf Shores Beach Rules & Regulations