There are some beautiful places to explore in Gulf Shores, AL, and one of them is Little Lagoon. This great fishing, swimming, boating, and birding destination is a favorite place to adventure among the outdoors. Little Lagoon in Gulf Shores features 10 miles of marshland, brackish water, trails, and nature parks. Whether you're coming to admire the wildlife and landscape or enjoy a variety of water activities, you'll love Little Lagoon in Gulf Shores.
For more information on places to explore in the great outdoors of Gulf Shores, read up on snorkeling or plan a trip to the Dauphin Island Audubon Bird Sanctuary.
Things to Do at Little Lagoon in Gulf Shores
Fishing
One of the most popular activities to participate in at Little Lagoon in Gulf Shores is fishing. When fishing the Little Lagoon, you can expect nibbles from spotted sea trout, which live in the deeper pockets. The 10-mile stretch is about a half-mile wide and is separated from the Gulf by a stretch of sand dunes and West Beach Boulevard. The blend of saltwater from the Gulf of Mexico and fresh water from the marshlands creates a unique environment that is ideal for fishing. Along with giant trout, expect appearances from flounder, redfish, and mullet while Little Lagoon Gulf Shores fishing. The latter can be seen and heard jumping out of the water and making a splash throughout the day and evening. The Little Lagoon in Gulf Shores is also a great place for crabbing.
Swimming & Kayaking
If you're spending a whole day at Little Lagoon in Gulf Shores, you might want to cool off with a dip in the water. The shallow lagoon has a soft, sandy floor, easy to walk on and perfect for swimming. With no undertow, you won't have to worry about being swept out into the Gulf. If you'd prefer a boat, then try canoeing, kayaking, jet skiing, or windsurfing in the lagoon. Kayaking and canoeing are particularly enjoyable for a leisurely morning or afternoon. Just float along the Pass and enjoy soaking up some sunshine and relaxing on the surface of the refreshing water. You can rent a kayak or canoe from the Down Under Dive Shop to get your adventures started!
Birding & Admiring Wildlife
The Lagoon Pier isn't a great place for fishing, but it is ideal for birdwatching. Unusually high off the water, the pier is a great landing location for seabirds to land and rest before diving for some fish. Along with birds, there is a variety of other wildlife you will find in and around the lagoon. Brown pelicans, blue herons, and gulls are a few water birds you will discover. Along the shores of the Little Lagoon, you will also find bluebirds, red-headed woodpeckers, and even hummingbirds. Bring your camera to take some shots of your favorite feathered friends. At certain times of the year, you can also catch monarch butterflies soaring through.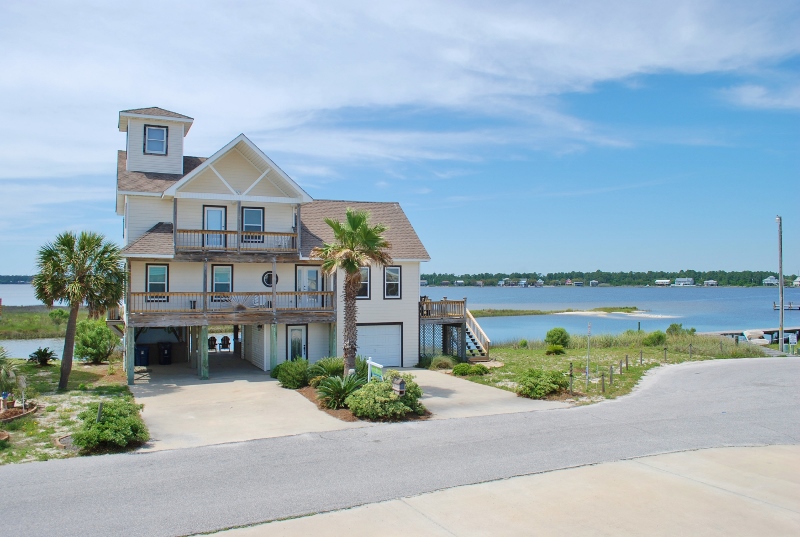 Stay At One of Our Vacation Properties on Little Lagoon!
We have several vacation properties with piers right on Little Lagoon! Our Orion Beach House is a favorite. This 4-bedroom, 3.5-bath waterfront home with a private hot tub is right on the lagoon and features a boat launch. You'll feel like you are away from it all at this peaceful retreat yet will be within minutes of restaurants, shops, and attractions. It's the perfect place to escape!
You May Also Be Interested In