A new year is upon us which means your next summer vacation is just around the corner. If you are planning on visiting us in the Gulf Shores, we want to make sure you are staying safe while enjoying our pristine, white sandy beaches. Find our tips below for Being Beach Safe in 2023:
Tips for Staying Safe on our Gulf Shores Beaches
1. Beach Flags Warning System
One of the best ways to stay safe on our gulf shores beaches is to be aware of the beach flags warning system. These flags are posted on all public beach areas. These flags help interpret the conditions of the water and if it is safe to swim.
Yellow Flag: Medium Hazard - moderate surf and or currents
Purple Flag: Marine Pests are Present - excursive caution
Red Flag: High Hazard - High Surf and or strong currents
Double Red Flag: Water Closed to the public - It is illegal to enter the Gulf of Mexico within the corporate limits of the city when there are two red flags displays
Many of our big, beautiful beach homes are on private beaches so there aren't any beach warning flags flying. It is still very important to be aware of the surf conditions to make sure you and your family are staying safe. Stay up to date on the daily surf conditions by text or by phone. You can also check them online at the National Weather Service.
Surf Conditions by Text: Text ALBEACHES to 888777 for daily beach conditions and warning flag status.
Surf Conditions by Phone: 251-968-SURF (7873)
You can also get local weather alerts and warnings by text. You can sign up by texting ALERTBALDWIN to 888777. Then at the end of your vacation, you can stop receiving any alert you signed up for by texting STOP.
2. Swim

Safety
The sea is a powerful beast and is much different from swimming in pools. It's important to respect the strength of the Gulf and the marine life that calls it home. Before swimming in the Gulf of Mexico, you should always check the surf and weather conditions and make sure you are staying aware of the conditions while you are on the beach.
When swimming in the Gulf of Mexico, it's important that you never swim alone and don't swim too far from shore. It is also important to not swim in areas near piers, pilers, and platforms, and don't swim near areas being used for fishing.
Lastly, don't swim at night or when the water is murky. There is less visibility for you to see any danger in or around the water and people are less likely to spot you if you are in danger when it's dark.
Rip Currents are powerful currents of water that move away from the shore. They are so strong they can sweep away the strongest of swimmers out to sea. Getting swept away in a Rip Current can be a scary thing and it's important to know how to identify a rip current and how to escape one.
Identifying a Rip Current
One of the easiest ways to spot a rip current is to look for gaps between the waves. When you see a small patch of calm water surrounded by waves it is often a rip current. Another way to identify one is by looking for discolored water near the shore. These dangerous currents tend to drag large amounts of sand and sediment back out to sea.
Rip currents are very common in areas near sand bars, piers, pilings, and jetties so when you are near these areas, please exercise extreme caution and awareness if you are in these areas.
The first thing is to remain calm. Fighting the current can exhaust you and can make it harder to escape. There are two ways to escape a rip current. First is to swim parallel to the shoreline then when you are free of the current, swim at an angle away from the current toward the shore. The second is to float or tread water and wait for the current to weaken. When it weakens, you can then swim at an angle from the current toward the shore. If you are unable to reach the shore, draw attention to yourself by facing the shore and calling or waving for help.
If you are on the shore and notice someone got stuck in a Rip Current, call 9-1-1 for assistance then seek help from a lifeguard. If there isn't a lifeguard around, you can yell instructions on how to escape or throw the victim something that floats.
3. Sun Safety
The sun can be a brutal beast, especially during the summer on the Gulf Shores. It's important to protect yourself and your young ones while playing in the sun. One of the best ways to shield yourself from the sun is to apply sunscreen. Sunscreen should be applied about 30 minutes before sun exposure and should be reapplied every couple of hours or after getting wet. For children, the reapplication of sunscreen should be more frequent. Extra protection also includes UV sunglasses and hats for all ages, especially children.
Water is also a huge component in battling the sun's rays. Water can help your body feel cool and it will keep you hydrated. Even if you aren't thirsty, you should still be drinking water. If you end up getting sunburnt after your day on the beach, drinking water can also help with sunburn relief.
Be aware of the signs of heat stroke! Symptoms of heatstroke are hot, red, and dry skin, changes in consciousness, a rapid, weak pulse, and rapid, shallow breathing. If you notice signs of heat stroke in someone around you, call 9-1-1. While you wait for emergency services to survive, keep the victim laying down and try to cool the body down with ice packs, cold packs, or cold, wet towels on their wrists, ankles, armpits, and neck.
4. Know Your Location
In case of an emergency, it's always good to know where you are so you can help first responders get to you quickly. The Gulf Shores & Orange Beach Tourism partnered with the app what3words to help you keep track of your location within a 10-foot square. This app can help emergency services find you, help you find your way back to your car, help others find you in a crowd and so much more.
Start Planning your next Gulf Shores Vacation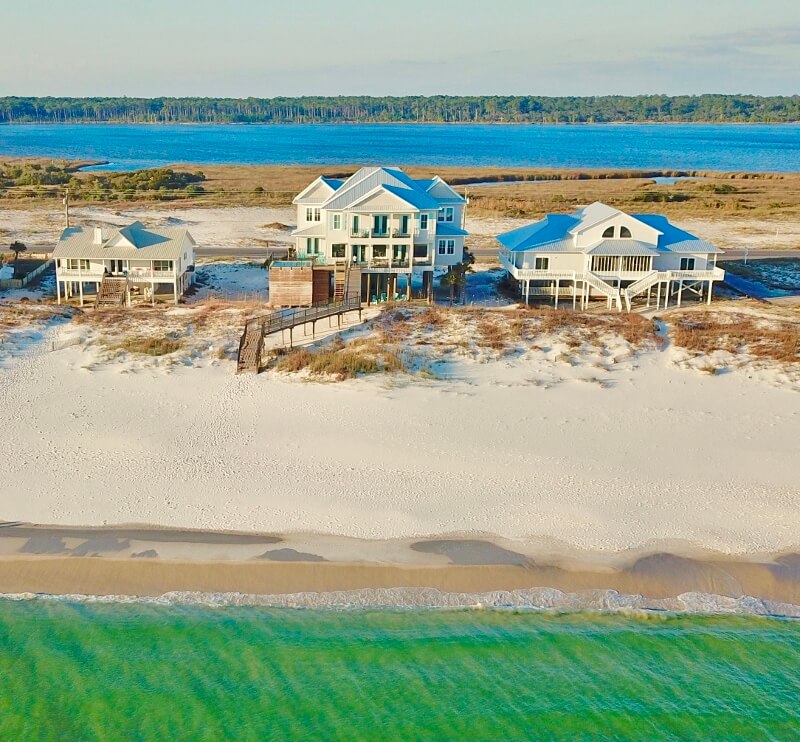 Many of our Gulf Shores Rentals are located on private beaches and don't have all the warnings the public beaches do. When you are visiting us we want you to be safe on the beach and in the warm Alabama sun. Find your perfect Gulf Shores Vacation Rentals today and be sure to remember the address just in case you need emergency services.